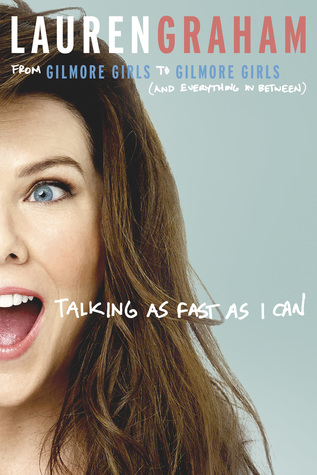 I stumbled upon
Gilmore Girls
as a teenager and it became Our Show. The show my mom and I watched together, every day/week, through six seasons (my mom never quite made it through season 7). With the comeback of AYITL (
:A Year in the Life
) and my beloved Gilmore Guys podcast, I heard about Lauren Graham's memoir, read a couple pages while standing in Barnes & Noble, and had to have it.
My history of reading celebrity-penned memoirs is a bit hit-and-miss. They all seem entertaining
enough
, interesting
enough
to pass the time. Disappointing in proportion to how excited about the book I was, or how much I like the celebrity in question. I haven't read many, but the ones I have read are decent. And it's not that Lauren Graham's book was leaps and bounds ahead of the others but... parts of it was? Her collection of essays -- about acting, about her childhood, about her personal life, about writing -- are for the most part well-written (sometimes amazingly well-written). Some chapters were more interesting to me and some were less interesting.
It's hard to review this book. Lauren Graham is a good writer and an interesting person, and while I found her notes on the filming of
Gilmore Girls
mostly real boring, the parts about her boyfriend, about her pre-acting and beginning acting years, about her writing, ranged from
oh, this is good
to
this is incredible!!!!